Leadership Speakers Series
Be Engaged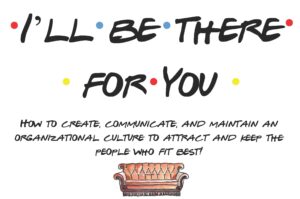 The series will explore best practices in cultural competencies and overview the leadership skills that attract and keep employees engaged. We have convened HR professionals, culture gurus, leadership experts, and front line workers from all generations to share their expertise and insights. All panel events will be hosted at the Penn Harris Hotel, (1150 Camp Hill Bypass) starting at 7:30 AM.
The Leadership Speakers Series will be offered on the following dates:
"How You Doin?"
Session 1, Wednesday, October 19
• Cultural Assessment
• DEI Assessment
• Identifying Your Value Proposition
• New Talent Pools require New Strategies – where are you looking to recruit?
• Orientation & onboarding that works!
"Come on, Ross – you're a paleontologist. Dig a little deeper!"
Session 2, Wednesday, November 16
• EI and PQ (Emotional Intelligence and Positivity Quotient)
• Continued Leadership Development (Self Awareness, Humility, Listening)
Identifying & Grooming Potential Leaders (Having the humility to delegate, true leaders develop more leaders)
"Plan? I don't even have a pla…"
Session 3, Thursday, December 15
• Building cultural expectations into HR functions, salary actions, promotions
• Dealing with cultural "mis fits"
• Creative Long Term Solutions
• Recommended Reading & Resources
Register Here: https://LHAspeakersseries22.eventbrite.com
Powered by:

April 29, 2020
Brilliant, Bold & Brave Leadership
Featuring: Karen Norheim, Susan Oh, and Kristal Turner-Childs
June 5, 2020
Something's Wrong: a conversation in civility, equity, and solutions
Featuring: Dr. Todd Allen, Cheryl Walker Davis, Dr. Kimeka Campbell, David Dix, Cole Goodman, Blake Lynch, Joe Robinson, Victor Rodgers, Floyd Stokes